I saw/caught a Spider. How can I identify it?
First, visit the Identification Page to find a match. If you can't find your spider, send an email to info@hobospider.net and ask how to proceed. Let them know if you have digital pictures, live samples, or other resources.
What do Hobo and Brown Recluse Spiders look like?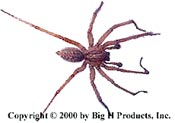 Male Hobo Spider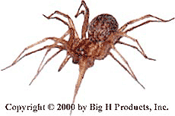 Female Hobo Spider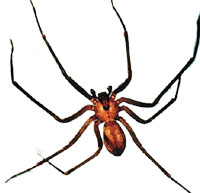 Brown Recluse Spider
Hobo Spiders are brown and measure roughly 12 to 18 mm in length. Their legs show no distinct rings and have short hairs. Their abdomens have several chevron shaped markings.
Males are distinctively different from females in that they have two large palps that look like boxing gloves. These palps are often mistaken for fangs or venom sacs, but they are in fact the male genitalia.
The females also have these palps, but the ends are not 'swollen' as they are on the males. Females tend to have a larger abdomen when compared to males.
The most recognized feature of the Brown Recluse spider is violin pattern on the cephalothorax or, in other words, the location on the top side of the spider near the head. Thus they have been nicknamed the Fiddleback Spider. This characteristic is common in adult brown recluses, but some young brown recluse spiders do not have any contrasting pigmentation in the violin region.
Recluse spiders also have abdomens devoid of any coloration pattern. Their legs lack thickened spines but are covered with fine hairs.
Unlike most U.S. spiders, the Brown Recluse spider has six eyes arranged in pairs called dyads. (Most U.S. spiders have eight eyes arranged in two rows of four.) One dyad is anterior, or toward the front, and the other two are lateral, or toward the sides of the cephalothorax (where the first legs of the spider attach to the body). All 13 species of U.S. recluses have this same eye pattern.
What do their webs look like?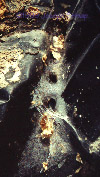 The Hobo Spider creates a non-sticky (in spider standards) trip web that doesn't permanently stick insects to the web. Instead, once the prey trips on the web the hobo spider attacks the prey before it can get away. This along with its poor eye site explains why they are noticeably more aggressive to humans then other spiders. They have to attack to eat otherwise they would die of starvation.
Their webs are funnel shaped and are often attached to an object in the yard--by the foundation--between planters, or anything that remains stationary near the ground level. It also makes webs under the siding of homes and attaching to plants or weeds.
Here is an example of a large hobo spider web--20% of actual size. Most webs are not as obvious and large, these are pictures taken between 2 planters for new trees.
Brown Recluse Spiders do not build webs.